The Mayor of Ramallah, Musa Hadid, flew in to the UK on Friday morning, the 8th March 2019, and was met and driven to Oxford by the Oxford Civic Officer. He was housed by arrangement with Oxford City Council in Queens College, where he was kindly hosted by the Provost, Paul Madden.
A programme for the visit was organised by the Oxford Ramallah Friendship Association (ORFA), whose members showed Mayor Hadid round Oxford and arranged meetings with Oxford contacts. On Friday afternoon he saw the Science Museum, which has an amazing collection of Arabic astrolabes, and that evening ORFA provided a welcoming reception in a private home.
Next morning (9th) he visited the Natural History Museum and the Pitt Rivers Museum. A lunchtime meeting followed, with members of Amnesty, Oxfam, Brookes University, and Mandala youth theatre, all of whom do some work connected to Palestine, and also a doctor who goes to Ramallah and Gaza. On Saturday evening Mayor Hadid was a guest of Oxford's Mayor, Colin Cook, at his annual charity dinner. This was attended by Oxfordshire Mayors, and other local dignitaries.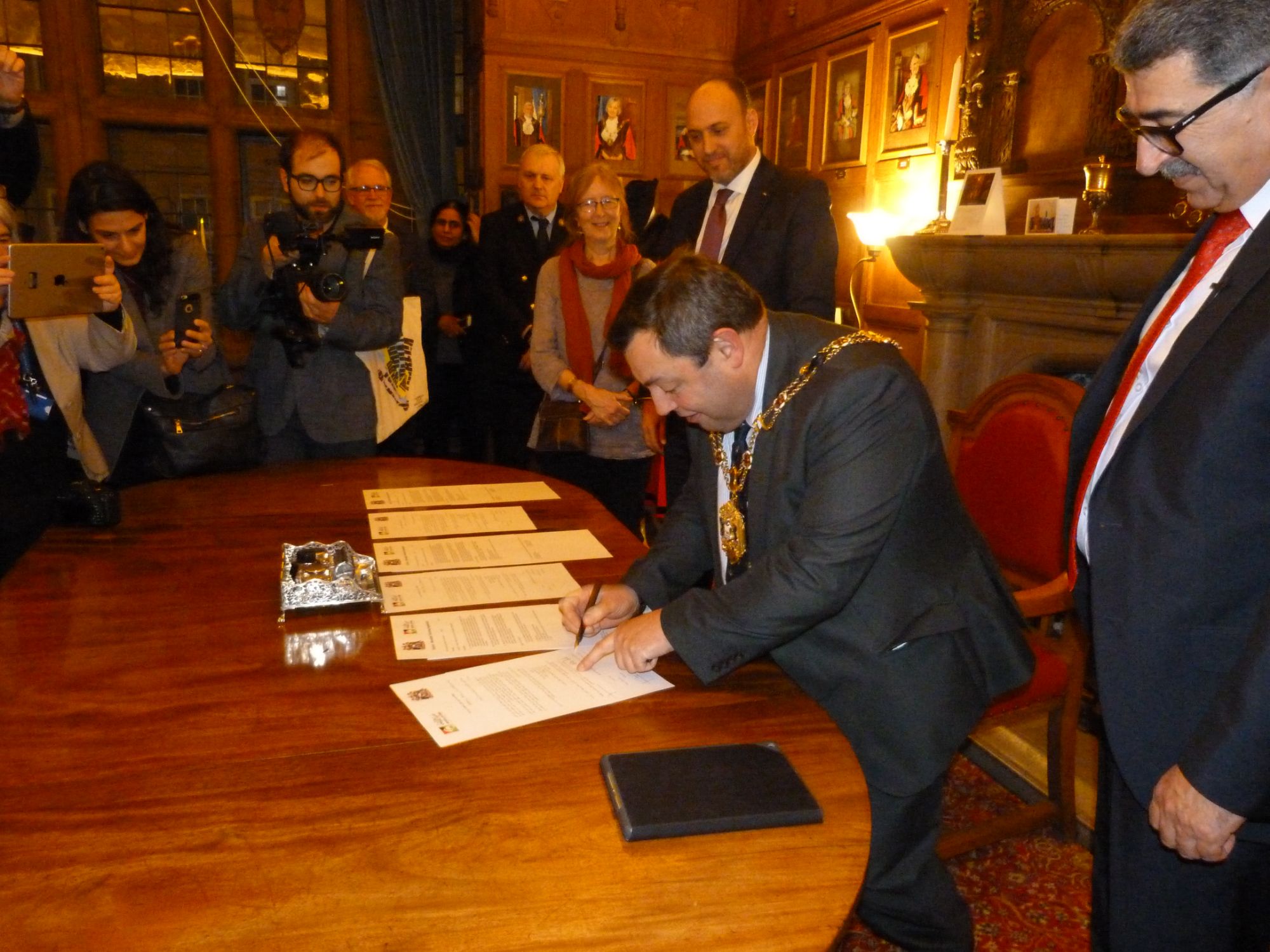 On Sunday he saw a presentation by Jan Chalmers of the 'Palestinian History Tapestry' which tells of events throughout the history of Palestine via embroidered panels sewn by Palestinian women in Gaza, the West Bank and Lebanon. That evening he had a meal with local supporters in a Turkish restaurant.
On Monday morning (11th) he went on a tour of the Ashmolean Museum, which has items such as 8,000 year old sculpted skull from Jericho, plus many Middle Eastern artefacts. This was followed by luncheon in St Antony's, hosted by the Director of the Middle East Centre, Eugene Rogan. This centre is a world renowned research hub with an archive of documents and artefacts related to the Middle East including Palestine. This lunch, plus the meeting with students that followed will hopefully develop relations between Oxford University and Bir Zeit University (which is located near Ramallah).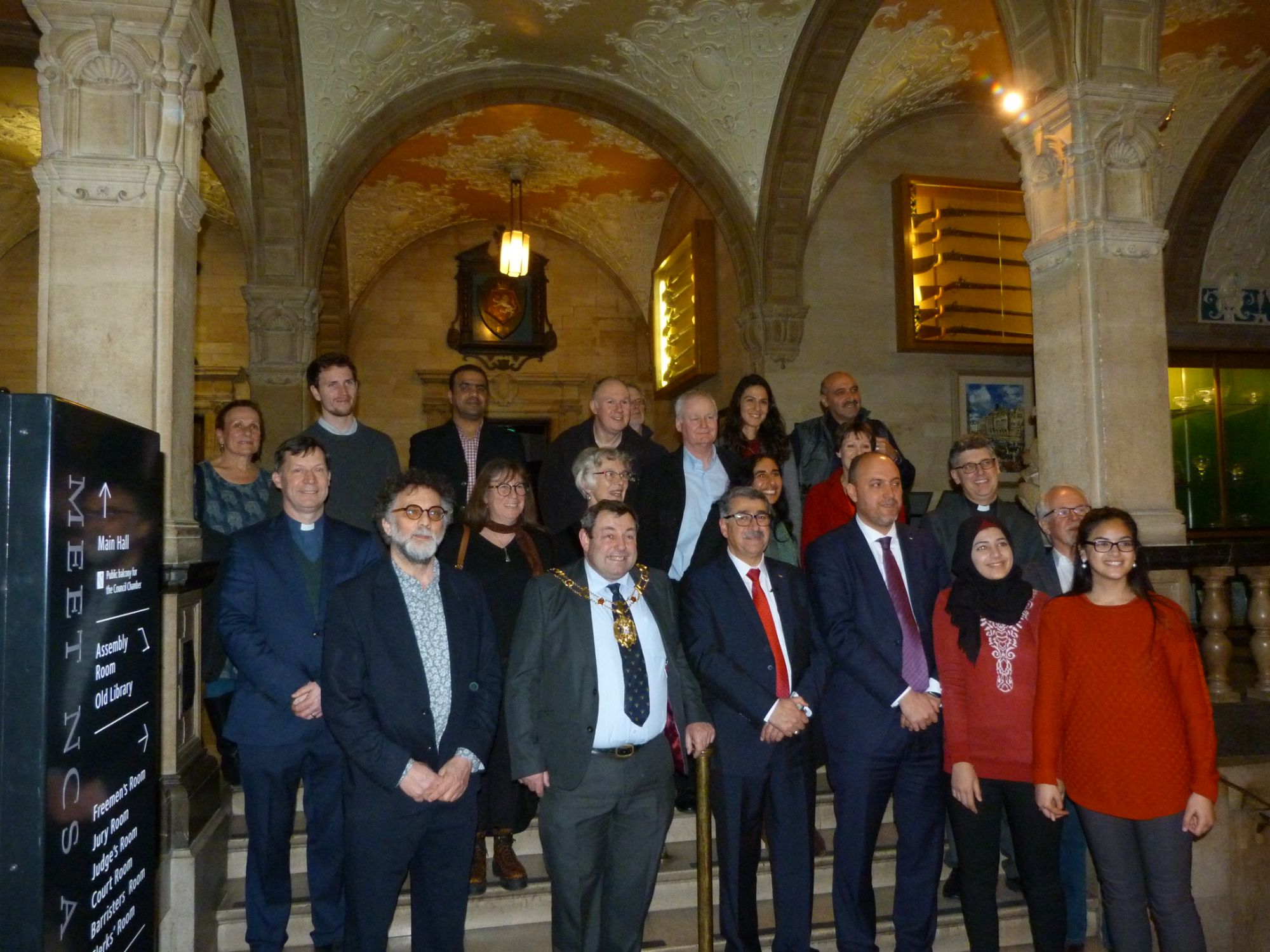 In the evening, before the signing, the Mayor was taken on a tour of Oxford Town Hall, with the Lord Mayor and many new friends. All then decamped to the Lord Mayor's Parlour. At 6pm, Mayor Hadid and Lord Mayor Cook signed the official Twinning Agreement between Ramallah and Oxford in the presence of Palestinian Ambassador Dr Husam Zumlot, many councillors, Oxford's next Mayor, Cowley carworkers' representatives, church representatives and more. Both Mayors, Ambassador Zumlot, and ORFA representative Nikki Marriott all stressed the historic nature of the agreement and the need to make the relationship real. Mayor Hadid then attended a celebratory meal with Oxford's Lord Mayor and friends. He left Oxford to start his journey back to Ramallah.