Oxford Ramallah Friendship Association (ORFA) is a charity building grassroots links between people in Oxford in the UK and Ramallah in Palestine. ORFA works in tandem with Oxford-Ramallah Twinning. ORFA raises awareness through bringing groups and individuals from Ramallah to share their stories with residents of Oxford. Through this we hope to reduce the sense of isolation that comes from life under occupation in the West Bank.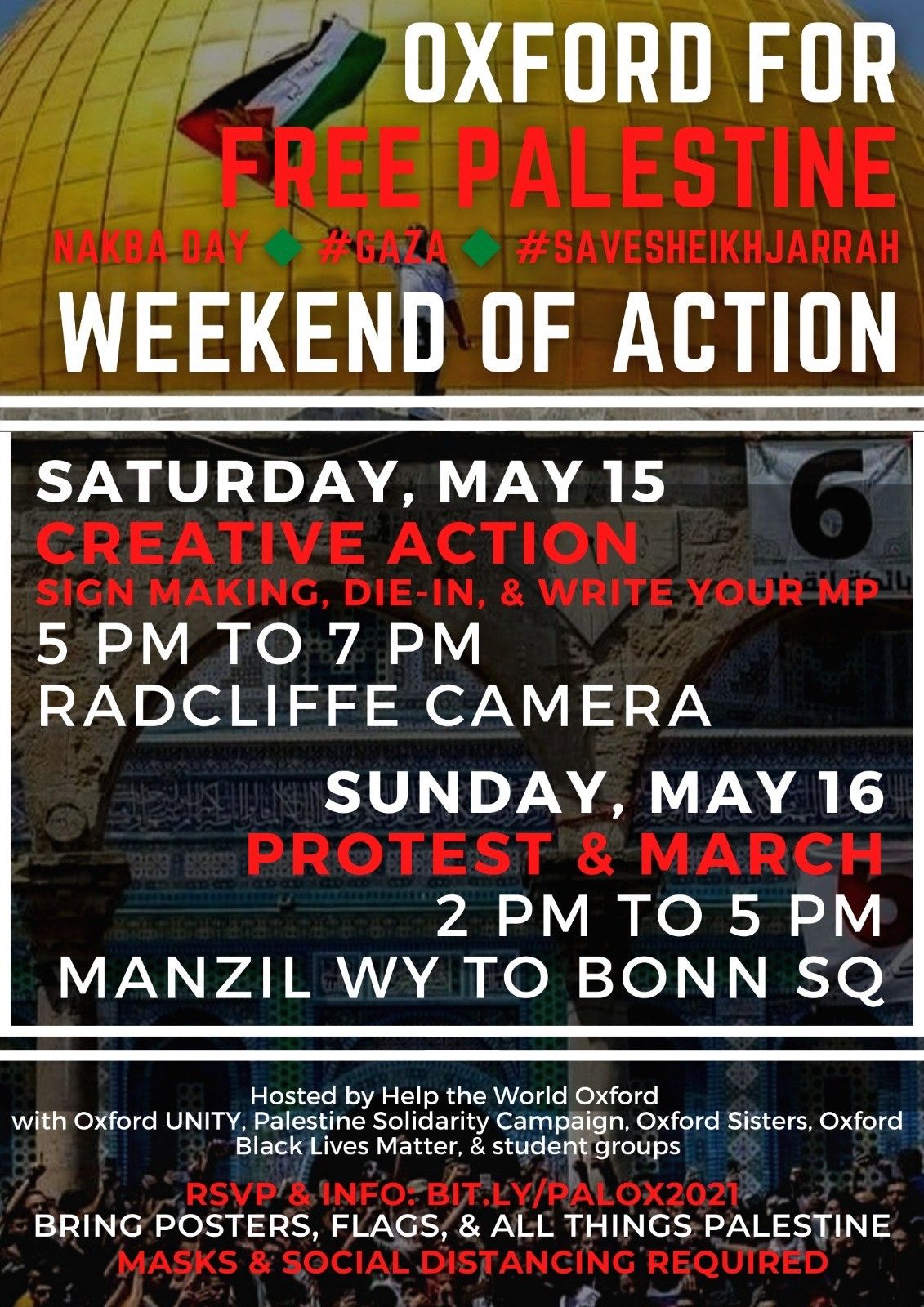 NAKBA SOLIDARITY EVENT
Tuesday 18 May, 6-7.30 UK time
Oxford-Ramallah Friendship Association (ORFA) and Oxford Palestine Solidarity Campaign invite you to remember and learn about the Nakba. Come and hear ORFA's friends in the Al- Am'ari refugee camp tell their stories.
For meeting details (including mobile dial-in), contact [email protected], or use this Zoom link
The Nakba is not just the catastrophe which happened to the Palestinian population in 1947-8. Ethnic cleansing, displacements, home demolitions, expulsions, injustice, exile continue to this day.
LETTER TO DOMINIC RAAB
In response to the escalating violence in Israel and Palestine, and a direct appeal for support from the Mayor of Ramallah, Oxford's Lord Mayor and the Leader of the City Council wrote to the Foreign Secretary Dominic Raab on 11 May, asking for the British Government's urgent intervention.
Oxford Ramallah Friendship Association and Oxford Amnesty Present:
Can We Speak About Palestine?
Oxford-based Palestinians introduce Akram Salhab's film (courtesy of Channel 4) exploring the inadequately acknowledged legacy of British colonialism on Palestinians today. The film includes an interview with Israeli historian Avi Shlaim, one of our patrons. The film is presented as part of Amnesty International UK's Festival of Social Justice.


In June, the Ultimate Picture Palace presents three showings of 'MAYOR', a fly-on -the-wall documentary which follows Musa Hadid, Ramallah's Christian Mayor, as he navigates the difficulties of running a city under occupation. The film will be shown on Weds 23 June (6.15) Thurs 24 June (6.30) and Sat 26 June (3.30). ORFA members will give a short video introduction to each showing.
Palestinian History Tapestry Exhibition
The Palestinian History Tapestry uses the embroidery skills of Palestinian women to illustrate aspects of the land and peoples of Palestine – from Neolithic times to the present. With our partner organisation, the Palestinian History Tapestry Project, ORFA is hosting an exhibition of panels from this award winning tapestry in Oxford Town Hall from 24-28 September 2021.
Find out about how the pandemic is affecting people in Ramallah.
ORFA's winter appeal successfully raised over £2000 to provide support for families affected by Coronavirus this winter.
Six groups of dancers in Ramallah feature in this 4-minute Global Dance Film, created by Dancin' Oxford for Oxford's Christmas Light Festival 2020.
The film is the product of a collaborative digital project bringing together dancers from Oxford and its twin cities of Ramallah, Perm and Grenoble.